AAUW Mission Statement
AAUW promotes equity for women and girls through advocacy, education and research.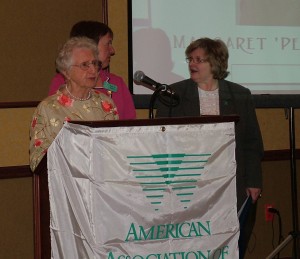 Diversity Statements
In principle and practice, AAUW values and seeks a diverse membership. There shall be no barriers to full participation in this organization on the basis of gender, race, creed, age, or sexual orientation,
REMINDER:  APRIL 7TH IS WOMEN'S RECOGNITION BRUNCH AT 9:30 AM AT  ALBRIGHT COLLEGE.  AAUW  awards scholarships to deserving young women of Berks County
NOTICE:  Dues forms for AAUW  membership are available on the the Membership tab.
Follow the BRANCHLINES AND WEB SITE for your up to date notices
"http://aauw-pa.aauw.net/">PA State AAUW | National AAUW
Educational Foundation | Legal Advocacy Fund
Click here to download BRANCHLINES