AAUW MISSION STATEMENT
AAUW promotes equity for women and girls through advocacy, education and research.
DIVERSITY STATEMENT
AAUW values and seeks a diverse membership. There shall be no barriers to full participation in this organization on the basis of gender, race, creed, age, or sexual orientation.
READING BRANCH SEPTEMBER GENERAL MEETING
Saturday, September 14, 2019 at 2 PM at Scoupe deVille Ice Cream Parlor
3365 Main Street, Birdsboro PA 19508 ( this address is on route 724 in Gibralter) 610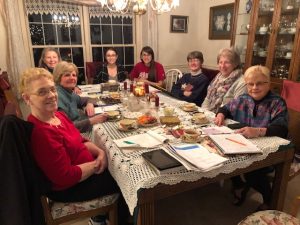 -582-5259
Welcome to our first general meeting for the year. This meeting will be a social get together at the Scoupe deVille Ice Cream Parlor in Gibralter. Members can purchase food or ice cream at the diner as desired. The diner serves hard ans soft Ice cream, Italian water ice, gelati, ice cream floats, milk shakes, Sundaes, banana splits, fruit smoothies, parfaits, shimmys (think blizzard), ice cream sodas, beverages, and other foods until 8 PM – hot dogs, Coney burgers, soft pretzels, BBQ, fries, chili, soup, cole slaw, bagged chips, platters, and kids meals. There are over 30 flavors of hard ice cream and many other choices in the other items served. Everyone should be able to find something that you like. Hopefully you will be able to join us for this social activity. If you have any questions please contact Virginia Schulze- Johnson at 484-663-3674. Parking is behind the building. To get to the parking lot behind the building from 724 turn onto Old Gibralter Rd. and right onto Firehouse Lane or turn onto Firehouse Lane next to the fire company and follow it around the corner to the left until you get to the ice cream parlor.
200TH ANNIVERSARY OF THE RIGHT TO VOTE CELEBRATION 2020
Keep abreast of the events in Berks County as we celebrate 2020 centennial commemorating the ratification of the 19th Amendment. Website: www.berkssuffrage2020centennial.org
Read more about the role of AAUW in the celebration of the Centennial in the current BRANCHLINES. Sign up to go to HARRISBURG FOR THE AAUW CONVENTION IN 2020.
PA State AAUW | National AAUW
Educational Foundation | Legal Advocacy Fund
Click here to download BRANCHLINES