AAUW MISSION STATEMENT
AAUW promotes equity for women and girls through advocacy, education and research.
DIVERSITY STATEMENT
AAUW values and seeks a diverse membership. There shall be no barriers to full participation in this organization on the basis of gender, race, creed, age, or sexual orientation.
AAUW provides many opportunities for women to explore their interests.  Books, foods, the arts, trips, whatever, but always with a focus on the role of women.  Our goal is to foster and encourage women "to stand up and be counted"
AAUW Election: Prep Your Vote by Learning the Issues
Starting April 7, AAUW members will be asked to vote to elect members to the national board of directors and on amendments to our Public Policy Priorities and bylaws, including a proposal to eliminate AAUW's longstanding membership degree requirement. Get up to speed on the issues by reviewing the election page on the AAUW website. The AAUW Board of Directors is recommending a bylaw change to remove the educational requirement for membership. Members are asked for feedback. A March 30 Town Hall for members is being planned. Watch for emails directly from AAUW-PA. Member voting is April 7 to May 17. Results will be announced on May 19. Our Reading Branch will discuss this at a special Branch meeting to be planned in April.
See also the January 19 Virtual Town Hall covering this topic on YouTube.
Recent Event
STEM presentation
Thursday January 21 AAUW held a Zoom presentation on STEM to learn about the Science Research Institute, where students in grades 5 to 12 create, innovate, invent, and get patents.
New AAUW member Adelle Schade developed and runs the Science Research Institute at Albright College. Last May it was named one of the top four STEM programs in the United States.
Thank you to all who participated in this exciting program on January 21st. If you weren't able to take part in our live Zoom presentation you can access the recording here:
https://us02web.zoom.us/rec/play/6Jk4XqZH0nlLSSIFRaMTa4OBDP80cekVJnS2iHOsYrLMbQkteJ-WkSRW4GMALVoK9OMqtjJFQzopAF5o.8dFqobAImGEqY5fF?continueMode=true&_x_zm_rtaid=azFBtkJGQDaMWbN9n10IdA.1611765555513.b3747f518d1f363646c6b9a9addd327d&_x_zm_rhtaid=873
Passcode 4RHXcM.S
AAUW Statement on the Passing of Supreme Court Justice Ruth Bader Ginsburg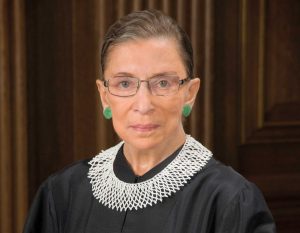 The following is a statement by AAUW CEO Kimberly Churches:
America lost one of our most beloved role models tonight, a pioneering jurist and iconic feminist who blazed new trails, not only in her own life, but in the lives of the countless women she championed — and inspired. On behalf of AAUW and its members and supporters who recognized Justice Ginsburg with a 1999 AAUW Achievement Award, we extend our condolences to her family, her colleagues and to every American whose lives and hearts she touched. The nation owes it to her — and to all women — to honor her final wishes and refrain from naming a replacement until after a new president is inaugurated.
Paying Tribute to a Feminist Trailblazer
Fight For a Just and Fair Supreme Court
It's Personal
By Judith Kraines, Public Policy Chair
AAUW's policy work connects and rallies advocates at the local, state, national, and global levels to empower women and girls. We use lobbying and grassroots efforts to push forward policies that break through educational and economic barriers for women.
These are AAUW's priorities:
Removing biases from education: Startling inequalities persist in American education. Gender, economics, race and ethnicity should not limit our opportunities.
Fighting or fair pay and economic equity: It's time to close the pay gap and for the work world to embrace diversity, equity and inclusion so we can all thrive.
Advancing women in leadership: Women make up more than half of college graduates and half of the labor force. But we're still not represented at the upper levels. We need equal representation.
What makes AAUW different than other advocacy groups? AAUW conducts groundbreaking research on issues related to gender equity in education and the workplace. Our work influences the national discussion on topics like the gender pay gap, sexual harassment, and the underrepresentation of women in STEM fields.
For 100 years AAUW has been an association of university graduates. We have lobbied for causes important to us and enjoyed each other's fellowship. But change may be in the air.
AAUW will raise dues $3.00 for fiscal year 2022, $5.00 for 2023, and $5.00 for 2024. The last dues increase was is 2018. It would appear our current membership cannot support the organization at the current dues rate.
To increase membership, the national board is considering dropping education requirements. AAUW would follow an advocacy and issues driven model, rather than a membership model. The national board feels we need to be build bridges with others who do not have the educational background, or who see the educational background as "elitist." AAUW would be rebranding as "AAUW." The full name would not be used.
Please consider how you feel about this. Karen and I, as co-presidents, are concerned about the impact the dues increases and/or the rebranding would have on our chapter. So please let us know your thoughts. It is important that our voices are heard.
AAUW members visit Brandywine Museum's Exhibit, Votes for Women
AAUW members are finding fun ways to continue activities during the pandemic. Recently a group of members took a trip to the Brandywine Museum to see their Votes for Women Exhibit.
SPECIAL EVENTS FOR AAUW READING BRANCH
100TH ANNIVERSARY OF THE RIGHT TO VOTE 
Fortunately we were able to celebrate  the historical event of women's right to vote.  Our "suffragists" were able to perform their reenactment of  these brave women who risked so much to get our government to grant women the right to vote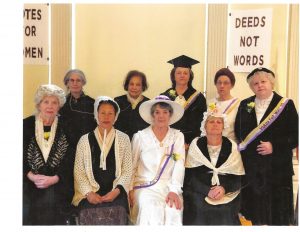 .  Unfortunately  the subsequent presentations to be held at the Kickoff of the Centennial in Berks County had to be cancelled;  the AAUW State convention to be held in Harrisburg in April of this year has also been postponed to July of 2020.
Stay abreast for news of cancellations and/or rescheduling of events by reading the Communications Memo emailed by Eileen Ritz, our Communications Director.
Berks Women's History Alliance in conjunction with local groups including AAUW held a "Curbside" Celebration of the 100th Year Anniversary of Women's Suffrage on August 26 at Berks History Center's Henry Janssen Library. (Click here for details and photos).
Keep abreast of the events in Berks County as we celebrate 2020 centennial commemorating the ratification of the 19th Amendment. Website: www.berkssuffrage2020centennial.org
LUNAFEST was a great success and we thank all who so generously supported this program. The food and films were enjoyed by all.
BOOK BONANZA UPDATE
NOTE: For the safety and health of the volunteers and donors, Book Bonanza will suspend the collection of books effective immediately.  The Book Bonanza Executive Committee will continue to monitor the situation and will determine the best time to resume collections for the July fundraiser.  Updates will continue to be posted on the Friends of Berk County Public Libraries Facebook page and on  http://www.berksbookbonanza.org
Read more about the role of AAUW in the celebration of the Centennial in Purple Sashes and Persistent Women, AAUW Pennsylvania 2020 Yearbook.
PA State AAUW | National AAUW
Educational Foundation | Legal Advocacy Fund
AAUW Action Fund
Congressional Voting Record 116th Congress (January 2019-September 2020)
Click here to download the current issue of our local newsletter  BRANCHLINES
          Click here to download the latest issue of The Keystoner
The Keystoner is published four times a year, this newsletter shares information about our work across the state.  We invite you to be a part of the exciting things happening across the state and to participate in AAUW Pennsylvania activities.  The Keystoner will keep you informed.