LUNAFEST
The American Association of University Women, Reading Branch presented LUNAFEST® for its 4th consecutive year as part of the 2021 ReadingFilmFEST! This exciting film festival was held live on Thursday, September 30, 2021, at 7 pm at Reading IMAX, 30 N. 2nd St., Reading, 19601. Virtual screening was also available September 30-October 10.
Congratulations to Carol Toomey and her team of AAUW volunteers for another very successful year of LUNAFEST®
LUNAFEST® is a unique inspirational film festival that features short films by and about Women. These short films will make you think, laugh, cry, and above all, marvel at the talents of these amazing filmmakers. All of them are presented with the goal of raising awareness of, and funds for, women's issues. The films range from animation to fictional drama, and cover topics such as women's health, body image, relationships, cultural diversity, and breaking barriers.
Book Bonanza Update
It was a lot of hard work, but Book Bonanza 2021 was a bonanza of successes. AAUW Reading Branch received a significant check for their scholarship fund and the Friends of Berks County Public Libraries received an equal amount to help support libraries throughout the county. Our patrons were delighted to purchase books, puzzles, CD's, DVD's, records, and audio books for very low prices. Some made return visits during the 5 day sale. Donations of surplus materials were made to nursing homes, Berks Encore, Goodwill, Jubilee and other charities to use or sell. Old and damaged books were kept out of landfills and were sent to be recycled.
All these successes were made possible by a wonderful group of volunteers who worked tirelessly before, during, and after the sale. If you were one of these take pride in what you helped to accomplish. As a member of the Executive Committee, I encourage all of you to support Book Bonanza 2022 by donating, volunteering to
sort and sell, and making purchases at the sale.
Suzanne Churgai
Berks Women's History Alliance holds "Curbside"
Celebration of the 100th Year Anniversary of Women's Suffrage
The nonpartisan Berks Women's History Alliance (BWHA) held a drive-through
celebration of the 100th year anniversary of women achieving the right to vote in America. The event, scheduled from 5:00 to 7:00p.m. (rain or shine) on Women's Equality Day August 26, 2020, was held at the Berks History Center parking lot located next to the Berks History Center's Henry Janssen Library at 160 Spring St., 19601.
Each participant was handed a free 100th Women's Suffrage Anniversary commemorative tote bag filled with information and items celebrating this historic milestone. One of the items inside the bag was a video showcasing local suffragist reenactors who were on hand to
meet people and distribute the bags.                                                                                                           In keeping with current state guidelines participants were asked to maintain social distance and wear masks.                                                                                                                                                 "I'm proud that the creative and determined members of the Berks Women's History Alliance refused to allow the COVID-19 crisis to destroy our plans to acknowledge the 100th Anniversary of Women earning the right to vote in America," said Penny Guido, one of the leaders of the Berks Women's History Alliance. "Our curbside celebration may be a bit unorthodox but it offered the public a safe way to participate and learn about the 72-year fight for women's right to vote."                                                                                                                                                        AAUW members participating in the event were Judith Kraines as Susan B. Anthony, Ellie Hunt as Elizabeth Cady Stanton, Carol Toomey as  Anna Howard Shaw, Eileen Ritz as Lucy Burns, Suzanne Churgai as Abigail Adams, Nancy Wolfgang as Carrie Chapman Catt and former AAUW member Hallie Vaughan as Alice Paul.                                                                                                  The Berks Women's History Alliance canceled the Berks Suffrage 2020 Centennial Dinner originally planned for August 26 due to concerns regarding the health and safety of attendees due to concerns around COVID-19.
AAUW members visit Brandywine Museum's Exhibit, Votes for Women
AAUW members are finding fun ways to continue activities during the pandemic. Recently a group of members took a trip to the Brandywine Museum to see their Votes for Women Exhibit.
SPECIAL EVENTS FOR AAUW READING BRANCH
100TH ANNIVERSARY OF THE RIGHT TO VOTE 
Fortunately we were able to celebrate  the historical event of women's right to vote.  Our "suffragists" were able to perform their reenactment of  these brave women who risked so much to get our government to grant women the right to vote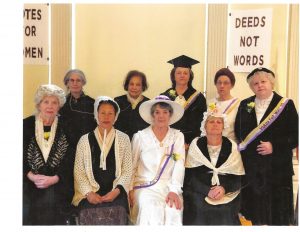 .  Unfortunately  the subsequent presentations to be held at the Kickoff of the Centennial in Berks County had to be cancelled;  the AAUW State convention to be held in Harrisburg in April of this year has also been postponed to July of 2020.
Stay abreast for news of cancellations and/or rescheduling of events by reading the Communications Memo emailed by Eileen Ritz, our Communications Director.
Read more about the role of AAUW in the celebration of the Centennial in Purple Sashes and Persistent Women, AAUW Pennsylvania 2020 Yearbook.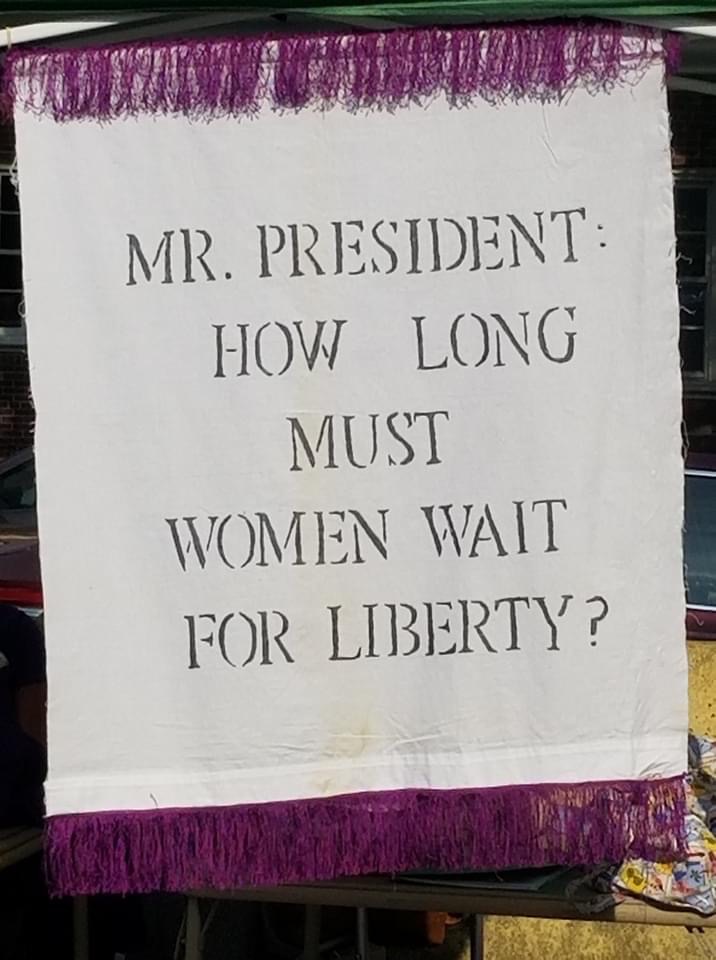 STEM presentation
Thursday January 21 AAUW held a Zoom presentation on STEM to learn about the Science Research Institute, where students in grades 5 to 12 create, innovate, invent, and get patents.
New AAUW member Adelle Schade developed and runs the Science Research Institute at Albright College. Last May it was named one of the top four STEM programs in the United States.
Thank you to all who participated in this exciting program on January 21st.
AAUW Statement on the Passing of Supreme Court Justice Ruth Bader Ginsburg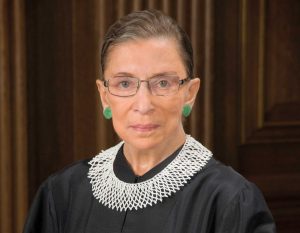 The following is a statement by AAUW CEO Kimberly Churches:
America lost one of our most beloved role models tonight, a pioneering jurist and iconic feminist who blazed new trails, not only in her own life, but in the lives of the countless women she championed — and inspired. On behalf of AAUW and its members and supporters who recognized Justice Ginsburg with a 1999 AAUW Achievement Award, we extend our condolences to her family, her colleagues and to every American whose lives and hearts she touched. The nation owes it to her — and to all women — to honor her final wishes and refrain from naming a replacement until after a new president is inaugurated.
Paying Tribute to a Feminist Trailblazer
Fight For a Just and Fair Supreme Court