2018– PROGRAM – 2019
SEPTEMBER 9th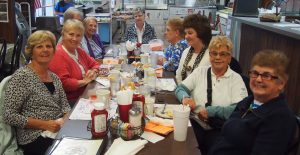 Sunday Sept 9th  2:30 pm –  Our first meeting and time to share our summer activities with other members. Ice Cream Social at Oley Turnpike Dairy Diner, 6213 Oley Turnpike Rd. Oley, PA 19547.  If anyone has a friend who is interested in joining AAUW this would be a good time for them to meet other members of our branch. For more information contact Ellen Konecny atrocker55@gmail.com or Virginia Schultz-Johnson at vsjflutedoc@gmail.com
OCT 3rd
 Wednesday at 7:00 PM..West Lawn/ Wyomissing Hills Library Halloween Herbs – presented by Pricilla Puchinsky
This meeting is one of Reading Branch's regular meetings. The public is also invited to attend.
JANUARY 13TH
Sunday at 2:30 PM……..VICTORIAN TEA at Virginia  Schultz-Johnson's house,
724  North 3rd St, Reading, PA 19601
Bring holiday cookies to share; have tea and punch; celebrate with AAUW friends in the joy of the season.
MARCH 3rd
Wednesday at 7:00 PM………West Lawn/ Wyomissing Hills Library
 ANNUAL BUSINESS MEETING – approval of budget and election of officers
Program Helen Vaughan presents  Women of the Civil War
APRIL 6th
Saturday at 9:30 AM……. location Albright College
Women and Girls Recognition Brunch
Honoring the highest ranking senior girls in Berks County high schools as well as our re-entry and graduate scholarship recipients………Speaker TBA.
JUNE  5th
 Wednesday at 5:30 PM……..ANNUAL BRANCH PICNIC
Shillington Park
End the year with good food and conversation. Bring a covered dish, dessert or appetizer. Drinks provided. On-going Jewelry extravaganza display.