2020 – PROGRAM – 2021
Thursday, September 24 – 4:00 PM
Join us for a Social Picnic
Happy Hollow Playground
1100 Wayne Avenue, Wyomissing
Bring a picnic supper, mask and a lawn chair.
Wednesday, March 10, 2021 – 7:00 PM
ANNUAL BUSINESS MEETING
Venue/Format TBD
Saturday, March 20, 2021
Women's Recognition Breakfast
Christine's Creekside Inn
1250 Green Hills Rd., Birdsboro 19507
Additional programs TBD depending on ability to meet in person or via Zoom.
2019– PROGRAM – 2020
SEPTEMBER 14th, 2019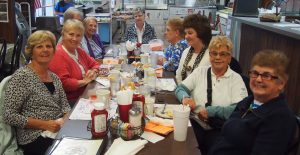 Sunday Sept 14th  2:30 pm –  Our first meeting and time to share our summer activities with other members. Ice Cream Social at  Scoupe deVille , 3365 Main St. (Route 724) Gibraltor,  See front page of this web site for more information.  If anyone has a friend who is interested in joining AAUW this would be a good time for them to meet other members of our branch. For more information contact  Virginia Schultz-Johnson
NOVEMBER 9th, 2019
Saturday at 2 PM –  Berks History Center, 940 Centre Ave. Reading, 19604 – female flutists composers – Presentations and performance by Centre Park Flutes with an informal Tea.
DECEMBER 15th, 2019
Sunday at 2:30 PM – Holiday Social at Patricia Hummel's home.,
1606 Olive St. Reading, PA

MARCH 2020
Wednesday in the afternoon (time TBD)- LUNAFEST and reception
 Albright College, Wachovia Theater, 13th and Bern Sts, Reading, 19604
MARCH 11TH
                                Wednesday at 7 PM – ANNUAL BUSINESS MEETING                                                                  Plus PREMIER of SYSTEM SHAKERS, BARRIER BREAKERS: THE SUFFRAGISTS   History Center, 940 Centre Ave , Reading 19604